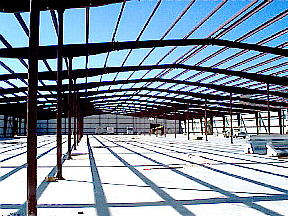 Toll-Free (844) 739-DEAN
Dean's pre-engineered metal building systems are structured to give you versatility, low maintenance, good appearance, and at competitive prices.
We want your business now and years from now.  Satisfied customers are repeat customers.
It is our aim to build you the finest building, along with a fine name for ourselves.
Fort Myers
General Offices
Sales & Mfg. Plant
2929 Industrial Ave
Fort Myers, Florida 33901
(239) 334-1051
Fax (239) 334-2432
Cedartown
Sales &
Manufacturing Plant
500 Tenth Street
Cedartown, Georgia 30125
(770) 748-7900
Fax (770) 748-5300
Thomasville
Sales &
Manufacturing Plant
71 Airport Rd.
Thomasville, Georgia 31757
(229) 225-1112
Fax (229) 225-1175
DSB Office – Fort Myers
Corporate Offices, Sales & Manufacturing Plant
(239) 334-1051 Fax (239) 334-2432

2929 Industrial Ave, Fort Myers, FL 33901, USA

DSB Office- Cedartown
Sales & Manufacturing Plant
(770) 748-7900 Fax (770) 748-5300

500 Tenth St, Cedartown, GA 30125, USA

DSB Office – Thomasville
Sales and Component Manufacturing.
(229) 225-1112 Fax (229) 225-1175

71 Airport Rd, Thomasville, GA 31757, USA